Bangkok Bungalow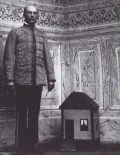 Designer: Guy Jarrett
Bangkok Bungalow was a routine (rather than one specific illusion) used in the Howard Thurston show. It was created by Jarrett in 1908, originally allowing Jarrett to be the assistant. It was performed as part of the Thurston show until at least 1922.
The magician's assistant stands atop a thin pedestal. The magician covers the assistant with a cloth and instantly the assistant vanishes. A raised platform with curtained walls is brought onto the stage. The curtains are lowered to form the walls and instantly the assistant appears inside the cabinet. The assistant is standing next to a small dollhouse. The magician closes the curtains again and the assistant's head can be seen above the top. The assistant ducks back down and one of the curtains are removed. The dollhouse is removed and placed in the wings. A second and third curtain are removed and the audience can see a "bulge" in the final curtain, making them think the assistant is still hiding behind it. However, the final curtain is drawn and the audience can see the assistant has vanished once again. Immediately with no time delay, the assistant appears in the  middle of the audience.
Jarrett developed the pedestal, "cabinet" base, and dollhouse for this routine. The dollhouse was created after Jarrett experimented with his "Sheet Metal Box" – a box measuring 16 x 27 x 30 inches. Jarrett claimed this box was "almost as lousy as the doll house" (not Jarrett's dollhouse, but the standard dollhouse illusion) but that it allowed him to find out how small a space he could fit into (Jarrett Magic).
Photos: Detailed line drawing is from Will Goldston's Annual of Magic, 1915-1916. The line drawing (labeled 21) is from a Burling Hull's advertisement. The illustrative photos are from Jarrett Magic. The house pictured by itself is in Mike Caveney's collection.
Sources: Steinmeyer, Jim, The Complete Jarrett, Hahne, California, 2001.