Beside Yourself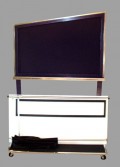 Designer: Peter Loughran
Builder: Master of Illusions Entertainment
The performer displays a colorful black and purple upright easel with a white drawing board. The performer his own midsection on the right side of the board. He outlines his figure in black and then colors the shirt and pants to match his own clothes perfectly. The performer now draws a knife in the center of the drawing board. The drawing board is now taken off of the easel and shown freely. The performer steps behind the drawing board aligning his body with the drawing. His legs and upper body are visible. He then pulls a curtain across the bottom of the drawing board that momentarily covers his legs. Suddenly the performer slides the top half of the drawing across to the other side of the drawing board passing over the picture of the knife. The performer now slides the top half of his own body over to the other side, apparently cutting himself in half. As the audience is screaming for him to open the curtain, he does just that. Shockingly the legs remain on the other side, while his severed body remains on the opposite side of the drawing board severed from his legs and eerily floating in mid air. The drawing board is moved up and down slightly to show that what the audience is seeing must be real. The curtain is closed. The performer and the top half of the drawing, slide back to their original positions. The curtain is opened and the performer is once again in one piece.
It is a one-man illusion that disassembles, packs flat, sets up in 5 minutes, and can fit in the back of the average car with room to spare. Although this illusion cannot be done surrounded, it can be performed without a stage and as close as a couple of feet away from the spectators.
The entire illusion is self-contained, easy to do, and uses no electronics. It is operated by a single switch, using precise mechanics, that allow the performer's hands to remain in full view and in front of the drawing board the entire time. Only the right thumb needs to go behind the illusion to operate the switch, making this illusion look like real magic.
Beside Yourself comes complete with specially manufactured drawing board and easel, dry erase markers in multiple colors, eraser, instructions, performance rights, and a custom wooden shipping crate.
https://youtu.be/RGCBuxYne4E