Doll House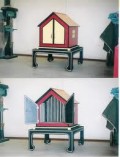 Designer: Frederick Culpitt
The Doll House was invented by Frederick Culpitt around 1927 and quickly became popular worldwide due to its practicality and deceptiveness. [1] It remains popular to this day.
It is an easy way to produce the assistant although sometimes the assistant will produce the magician. Although this trick is called the Dollhouse Illusion, it can be painted to resemble a train engine, bus, school house, car, etc.
A doll house is shown to be empty (often removing the toy furniture in the process of displaying the house). However, when the door is closed, the roof immediately pops open in the center and a full-sized (generally adult) female "doll" – too large to have been hidden within the empty doll house – steps out.
This illusion may sound like a simple effect, but astonishes audiences when done with the great showmanship and flair.
https://youtu.be/sPtF3N37xT8
SOURCES
[1] http://www.themagicdetective.com/2012/07/fred-culpitt-and-his-creations.html